All conference events for Rutgers Model United Nations will take place at the Hyatt Regency Hotel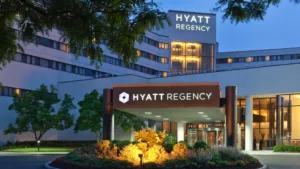 in historic New Brunswick, New Jersey. Students using RUMUN-organized accommodations will be placed at the Hyatt Hotel on a first-come and space available basis. Due to the limit of hotel room availability in the city, IDIA reserves the right to place schools at an alternate hotel location should it become necessary. In the event such placements are made, IDIA will be responsible for organizing and paying for all such transportation.
The hotel fee included in the total fees for each student include management of the entire hotel process. To guarantee rooms are available, all rooming lists must be submitted on the IDIA website by the date specified in registration. Once they are in our system, we'll take it from there — all you have to do is arrive at the assigned hotel on Thursday and collect your room keys.  Given our relationship with the conference hotel, IDIA is solely responsible for managing the room assignments — calls to the hotel for rooms during the event will be referred to IDIA.